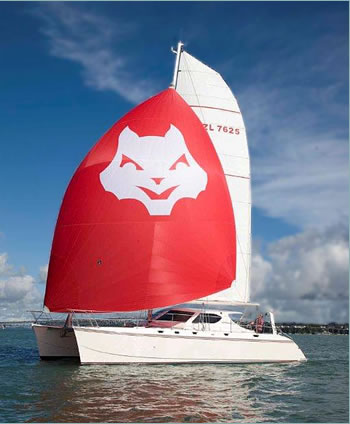 | | | |
| --- | --- | --- |
| LOA | | 14.5m |
| BOA | | 7.2m |
| Dspl | | 9100kg |
| Engines | | 2 x 55hp Yanmar Saildrives |
| Fuel | | 900L |
| Water | | 200L & desalinator |
| Sails | | Slab reefing mainsail, Self tacking, roller reefing and furl jib, Roller furling removable screecher, Gennaker with stowing sock |



A design drawn with serious efforts to reduce overall costs in mind.

Single chined,fibreglassed marine ply hulls are used with vacuum bagged ply/foam/ply bridgedeck, beam-bulkheads.

Accommodations are 2 double berth cabins aft port and starboard and 2 single bunks and a toilet forward on port side. Galley is port hull centre, with saloon ,dinette and nav station on bridgedeck. The starboard hull has workshop at centre, with toilet, shower, and generator/washing machine room forward.

Rig is simple single spreader type, and utilises a trough boom for mainsail stowage. A roller reefing/furling self tacking jib and rollaway removable screecher, with a gennaker (in stowing sock) complete the wardrobe for easy sail handling.

Katariana has to date completed offshore voyaging to New Caledonia, circumnavigated North Island NZ, and many NE coastal miles

This catamaran has recently been put into MSA safe ship management, and is now certified for local charter work.